American Icons …Statue of Liberty, Empire State Building, waves of amber grain and of course Levi's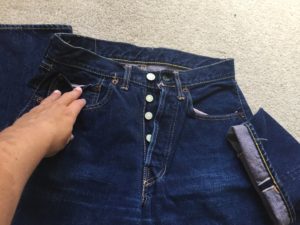 Never dreamed i would touch not to mention own a pair of Levi's like this! Had to document as i will most likely never be lucky enough to find another pair!
I became self educated about Levi's and other jeans thanks to a seller who gave me her decades worth of jeans to sell for her. She was planning on making denim purses when she retired and later changed her mind. In the mix of different jeans were various pairs of Levi's.
So… what are the details that make one pair worth a few dollars and another worth thousands? Again a shout out to all others that have put this information out before me including Levisguide.com , RopeDye
In a nutshell you want to look at the Tab label and Color on the back pocket or back patch. Levi's transitioned from "big E" to "little E" between '67-69.  Big Letter E on LEVI'S Red Tab on both sides. Prior to this they only printed on one side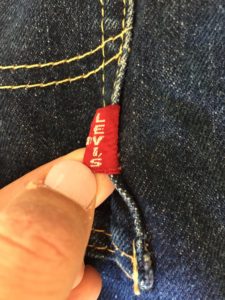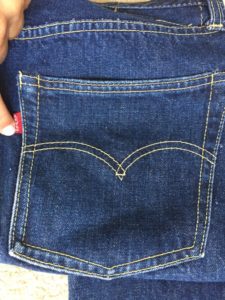 Selvedge refers to the way denim has been woven. Learn more here. Shown is white line selvedge. More recent styles include red line. Now unless you have a pair of designer jeans selvedge is not generally standard, they surge the side seam instead… much less expensive.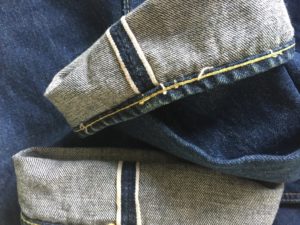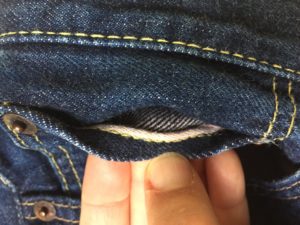 Check out the size of this pocket. It was intended for a Watch not coins. The white strip is selvedge, also unusual. 🙂
Type of stitching, this is a single stitch, in 1973 Levi's switched to different double link stitching.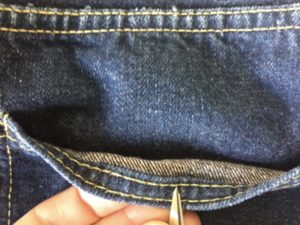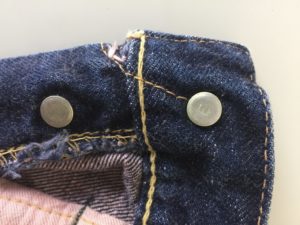 Hardware. These are referred to as Button Codes and indicate which factory produced them. This one is a letter "E". Now they are three digits.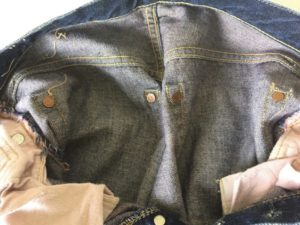 Hidden Copper Rivets.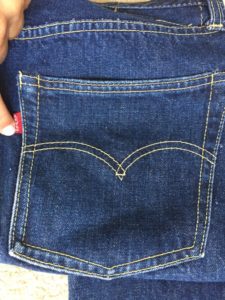 Not visible when on. The jeans prior to this had the rivets on the exterior back pocket. Customers were complaining that it was scratching furniture.
Lemon Yellow thread not gold bronze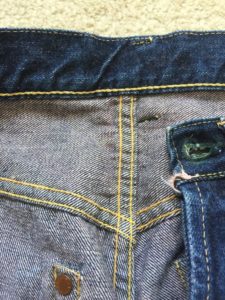 V-Stitching & Offset belt loop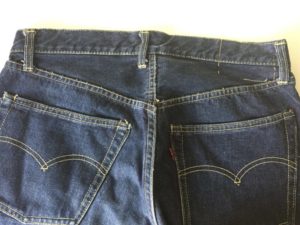 Again all of this information was learned from others and handling different jeans. Wanted to share this incredible find that is currently listed on eBay
So many great jeans so much history.. such as  Wranglers were made for Cowboys  and Rodeo use. Wrangler is the only western brand officially endorsed by Pro Rodeo Cowboys. Lee Jeans where made for railroad workers and they created the UnionWork Jumpsuit. Along with introducing the first zipper fly on jeans.
Hope you enjoyed this history lesson. 🙂
Here are the ways identified my Levi's
Button Fly
Selvedge-White line not Red
Top Button contains and "E"
Hidden copper rivets
Single stitch pockets
no care tag
Selvedge Watch/Coin Pocket
Flat Silver LS hardware
V-Stitching
and off set belt loop
Lemon yellow thread